Pest Control for Problem Spiders
From messy webs that catch allergens and insects to venomous redbacks lurking in cracks and crevices, spiders pose health risks in any residence.
If you've noticed spiders, webs, or spider eggs around your property, you can call a local pest controller for fast and effective service. At 5 Star Termite & Pest Control, we employ various methods to exterminate spiders and keep your home healthy.
Perth's safe spider extermination
Families across the metro area choose 5 Star to keep them safe from dangerous and bothersome pests. Here's why:
Locally owned and operated
Client safety is our number 1 priority, so we only use safe techniques

Industry-leading solutions

Customers receive the support they need when they need it with 24/7 service

Effective prevention strategies

Effective spider extermination

Treatments safe for family & pets


Licensed for the highest-quality products

Trusted by Perth families
Our 5 Star Process for Pest Control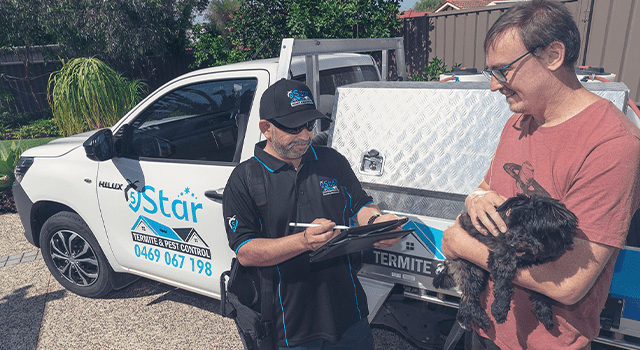 1. Speak with an Expert
Give us a call; we'll discuss your pest problem and give you a free quote. If an inspection is required, you can book at a time that suits you.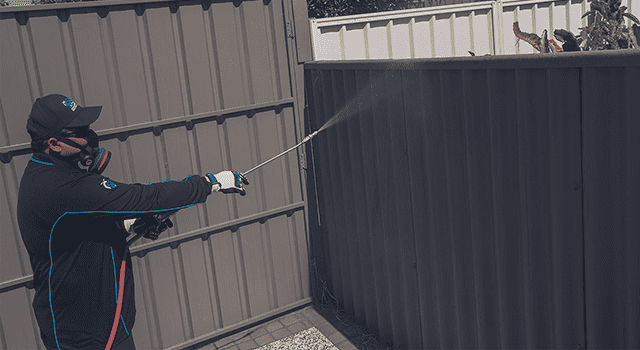 2. Treatment and Extermination
For optimal results, we will apply the treatment method best suited to your problem and property. If the spider infestation is severe, we may suggest a follow-up visit.
3. Safeguarded by Warranty
Every service we offer comes with a warranty, so you know you've received 5 Star service
(Terms & Conditions Apply)
How to spot a spider infestation
Many species are adept at hiding. So, by knowing more about the spiders in your area, you can stay ahead of any potential infestation.
Common locations
Not all spiders spend their time in webs. It's important to know where a spider may be hiding to prevent accidental injuries, particularly for children.
Redbacks shelter in dry, dark places and are often found beneath furniture, in sandpits, sheds, and beneath landscaping elements.

Black house spiders create webs with funnel entrances, usually around windows, downpipes, and gutters.

White-tailed spiders aren't web builders; they may be hidden in curtains or beneath furniture.
Spider identification
Most species of spiders can be identified by sight. Some of Perth's common species include:
Huntsman spiders, which are large, usually brown, grey, or black, and have one pair of shorter legs
Black house spiders, which are between 1 to 1.5 cm long and may be dark brown or black
Redback spiders, which are typically black with a red or orange stripe on the abdomen
White-tailed spiders, which are usually dark grey or reddish-brown and up to 18 mm in length
How to avoid a spider infestation
There are several methods you can employ to keep spiders at bay. While it may be difficult to remove them entirely from your garden, you can prevent them by:
Removing visible cobwebs and egg sacs

Tidying and eliminating hiding places, including piles of leaves, wood and rocks

Dusting and vacuuming frequently

Turn off unnecessary lights in the evening (these can attract insects, which spiders arrive to feed on)
Sealing cracks, gaps, and crevices around the home
Installing and repairing fly screens
Contact us today for a Free Quote or 0423 600 555
Our Pest Control Services
You can stop worrying about pest problems. Let us solve them using our Pet-Friendly Pest Control techniques.