Pest Control for Bed Bugs
If you're waking up with mysterious itchy bites, bed bugs may be to blame. These pests hide away in bedding, mattresses, and curtains, coming out once you're asleep to bite and feed on your blood.
With the only real sign of a bed bug infestation being the red, itchy bites they leave behind, these pests can be challenging to get rid of once and for all. We recommend professional pest control, so you can get back to sleeping soundly.
Bed bug extermination from Perth locals
Bed bugs can be frustrating and challenging to deal with. When Perth locals need help exterminating pests, they trust 5 Star Termites & Pest Control. Here's why:
Locally owned and operated

Non-hazardous treatments to keep your family safe

Industry-leading knowledge and techniques

Up-front, honest, and on-time

Long-term solutions to all your pest problems

Effective bed bug extermination

Treatments safe for family & pets


Licensed for the highest-quality products

Trusted by families in Perth
Our 5 Star Process for Pest Control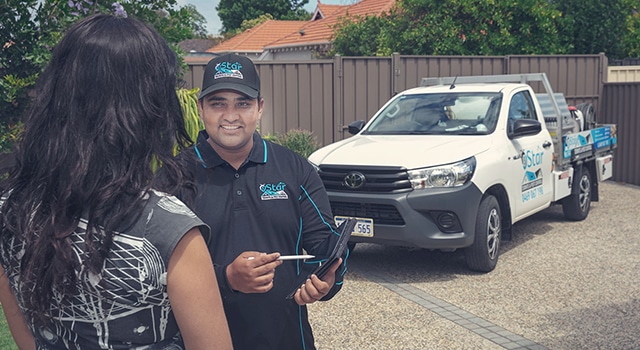 1. Speak to an Expert
If you suspect you have bed bugs, give us a call. We'll discuss your pest problem, arrange an inspection if required, and provide a quote for the best treatment method.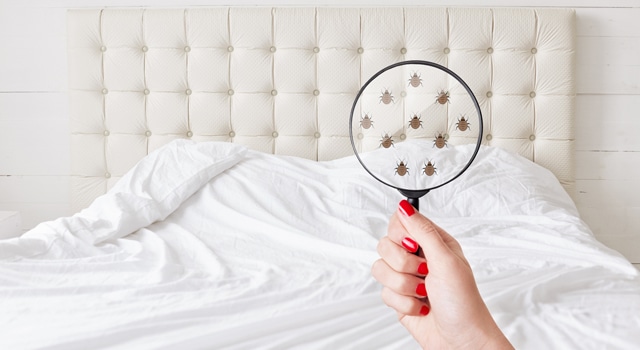 2. Treatment and Extermination
We'll find the source, treat the bed bugs, and exterminate them with our safe and effective solutions.
3. Safeguarded by Warranty
You'll have peace of mind that the pests are gone for good with our 30-day money-back guarantee.
(Terms & Conditions Apply)
How to spot a bed bug infestation
With bed bug infestations becoming increasingly common, knowing the signs of a potential infestation is helpful.
What do bed bugs look like?
These pests get out of control quickly because they are small and difficult to see. Bed bugs are typically red, 5 to 8 mm long, with a flat and oval body. When they hatch, bed bugs are translucent and darken after each moult.
Due to their size, you may not ever see a bed bug even if they are around. Instead, you may notice dark stains and small spots on sheets, a musty sweet smell, or blood spots.
Bed bug behaviour
Another reason that infestations occur is due to the bed bug's reproductive behaviour. One female bed bug can lay up to 200 eggs during her life, and because the eggs are so small (approximately 0.8 mm), they are often missed by DIY treatments.
Able to live for several months without feeding, it's common for these pests to infest homes when brought in on stored furniture or reinfest a home when a new tenant moves in.
Bed bugs usually arrive in one home after being transported from another. To prevent them from arriving in your home, you should:
Check all second-hand furniture thoroughly

Wash bedding and other textiles in hot water

Avoid using shared laundry facilities

Vacuum regularly

Immediately wash clothes and thoroughly clean luggage after travelling
Our Pest Control Services
You can stop worrying about pest problems. Let us solve them using our Pet-Friendly Pest Control techniques.