Perth's Solution to Pest Birds
Are you bothered by birds? You don't have to put up with these messy, destructive, disease-spreading pests. Whether your problem is birds nesting, destroying your solar panels, or bringing in mites and lice, 5 Star Termite & Pest Control have a solution for you.
We use safe methods to control birds, removing them without harming the animals, your property, or your family. Then, once they're gone, we'll help you develop a preventative strategy best suited to your property.
Why Perth locals choose 5 Star for their bird control
We're proud to be the pest controllers that locals count on. Here's just some of the reasons they choose us:
Locally owned and operated

Effective techniques and treatments that are safe for all

Industry-leading solutions

24/7 emergency service

Prevention plans for future pest control


Treatments safe for family & pets


Licensed for the highest-quality products

Trusted by Perth families
Our 5 Star Process for Pest Control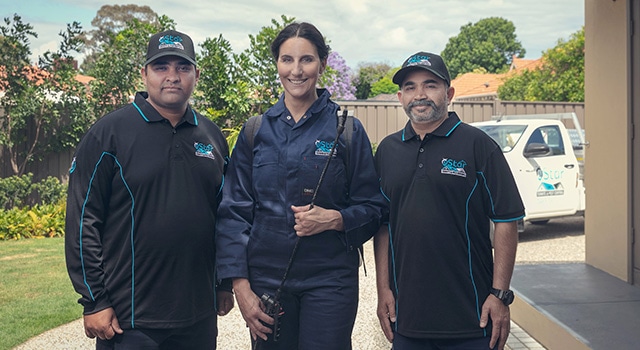 1. Speak with an Expert
To receive a free quote, just give us a call. One of our technicians will discuss your pest problem and book a property survey if required.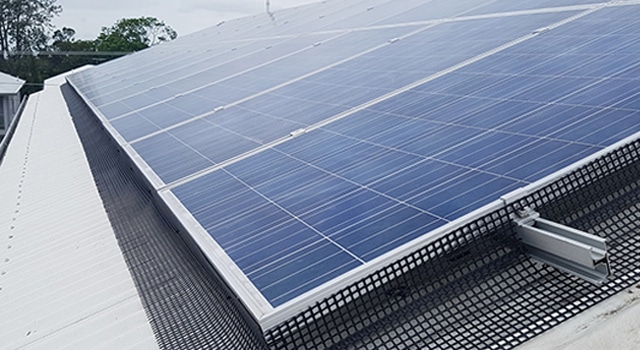 2. Treatment and Extermination
We'll tailor a treatment method to your needs and employ the best strategies to tackle the problem. For birds, it may include trapping, netting, solar panel proofing, installing bird spikes, bird wire, and more.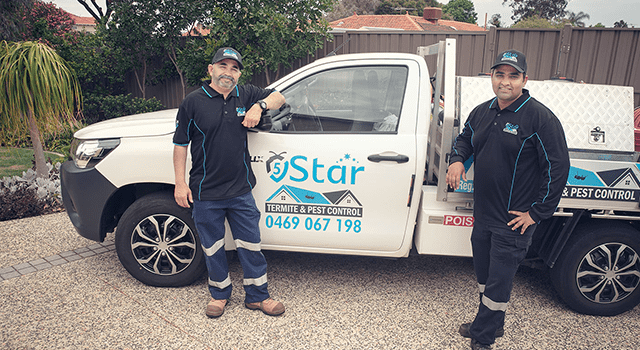 3. Safeguarded by Warranty
You'll be safeguarded against pest birds with our 5 Star general pest warranty.
(Terms & Conditions Apply)
How to spot a bird infestation
Many people are surprised to learn that pest birds have the potential to infest properties and that once they're there, they can pose plenty of problems. But learning more about local bird behaviour can keep you a step ahead of these pests.
Nuisance bird breeds
There are a variety of birds in Perth, introduced and native, but some species are more problematic than others. Birds that cause the most stress include:
Starlings
Pigeons
Sparrows
Seagulls
Mynas
Bird health risks
One of the main problems with pest birds is that they are a health hazard, including:
Salmonella
Ornithosis
Bird fanciers lung
Cryptococcosis
E-Coli
Attracting other pests
You may become aware of other pests, only realising later that pest birds were the original source. When birds are staying nearby, you may notice signs of other pests, like:
How to avoid a bird infestation
At 5 Star, we help customers implement strategies to prevent pest birds in their homes and businesses. Some methods may require professional assistance, while others can be done by anyone.
Bird netting
When applied correctly, bird netting is one of the most effective and humane ways to prevent birds. You should:
Choose 'wildlife friendly' mesh to prevent other creatures from becoming trapped in the nets

Cover the area with netting entirely with no gaps

Use the correct size for the site you are protecting
Bird wire
An effective solution for protecting ledges, beams, and areas around the roofing. Bird wire consists of strong wires secured between posts. The wire is too unstable for a bird to land on, forcing them to find another area to land.
Garden maintenance
Proper cleaning and maintenance can prevent birds from nesting. You can:
Removing fruit from trees as soon as possible

Clearing and disposing of dropped fruit

Cover vegetable gardens with netting

Removing any nesting materials (grass clippings, animal hair, sticks, twigs, and leaves)
Our Pest Control Services
You can stop worrying about pest problems. Let us solve them using our Pet-Friendly Pest Control techniques.